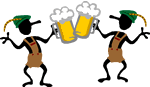 First, my random thought for the day:
If your car is having battery trouble, it seems the last thing you would want is an extra light coming on, just to indicate this problem. I know, you should be notified, but there has to be a less power draining way.
Yes...my car had said troubles.
On to my preview. I swear, this is my last soccer blog for a few weeks. I know you are dying to be regaled with tails of
cats
ex
and
iced-coffee as it relates to life
, so I must put my World Cup Fever on hold until the U.S. begins play on June 12th.
Before I do that, though, I must subject you to my hastily researched, partially unfounded, World Cup predictions. That way, if any of them come true, I can edit these last two sentences off my blog, and say "I told you so".
We'll begin with my biggest concern, my beloved Americans. They managed to stave off Fret Level Red with a couple of victories before heading to Germany. I'm still concerned that neither of them were as convincing as their thrashings of Uruguay and Jamaica in the run-up to '02, or really even their loss to The Netherlands in that same series.
Nonetheless, a few of the young guys showed their wares, and seem to have offered Bruce Arena a few options to throw at our opponents in Group E. Eddie Johnson looked dangerous once again (even though he's still waiting for his next goal in the US uni), Bobby Convey showed why he was regarded as one of Reading's best players this year, and John O'Brien appears to be rounding back into form. These are all things that will make Bruce's selections difficult, and exciting at the same time.
Here's my thought on this edition of the U.S. team. It's the calm before the storm. That is, this is the team before "The Team". The '06 edition may find it hard to make it out of their difficult group, and even then will surely be sent home by Brazil in the 2nd Round. The 2010 Nats, however, appear poised to not only earn a seed in this quadrennial event, but make a fair amount of noise. The number of Americans being placed in crucial roles on their European clubs is rising every year, and that could make the '10 edition very young, and very exciting.
As for the aforementioned "Group of Death". I expect Italy to win this group. Conventional wisdom has The Czech Republic advancing. I'm not so sure about that. The Czechs have the unfortunate task of being the new "it" team for this World Cup, and that often comes with added pressure, and a pinch of haughtiness. The last two times the U.S. faced this team, it played under the names Colombia and Portugal. Neither responded very well to their new found adoration, and failed to qualify for the 2nd Round. Based on Arena's experience, and the weight of expectations, I believe the US will progress as the #2 team out of this group, before making an almost guaranteed exit against Brazil.
Even if they are knocked out in Group E play, I don't expect them to lose to both Italy and the Czechs. There is enough talent there to steal at least a tie from one of these sides.
Ghana, of course, is the real wild card in this group. My biggest hope is that even if we don't advance, that American fans are smart enough to realize how harshly the odds are stacked against us...and how kind FIFA was to our neighbors, Mexico.
My overriding thought on this Cup is that Brazil won't win. They are certainly good enough to be the
first non-European team in a half-century
to win a Euro-based World Cup (when they became the only team to do so), but the sheer effort it would take to win their 3rd trophy in 4 tries is daunting.
As for the rest of the Cup - In a nutshell, I see it going something like this:
Group A - Winner: Germany (Mmmm...Land of Chocolate)
Runner-Up: Poland (Isn't that always the way?)
Dark Horse: Ecuador
Group B - Winner: England (Inability to
dance a proper Robot
aside.)
Runner-Up: Paraguay (Will still be confused for Uruguay)
Dark Horse: Actually, Paraguay
Group C - Winner: Netherlands
Runner-Up: Argentina
Dark Horse: Cote d'Ivoire (That's Ivory Coast to you soap enthusiasts)
Group D - Winner: Portugal
Runner-Up: Mexico
Dark Horse: Iran (The only team in the Cup I'll root for Mexico against)
Group E -
See Above
Group F - Winner: Brazil (Duh)
Runner-Up: Japan (All thanks to
Arnold's energy drink
.)
Dark Horse: Anyone other than Brazil, really. Japan, Australia, or
Croatia could all finish 2nd here.
Group G - Winner: France (Henry comes up big, Zizou goes out in style)
Runner-Up: Switzerland (But they'll regret being so agressive)
Dark Horse: Switzerland, most have S. Korea making it out over The Swiss
Group H - Winner: Tunisia (My one crazy pick, and the requisite "Surprise Group Winner")
Runner-Up: Spain (Will consider firing coach in mid-tournament)
Dark Horse: Ukraine
Semi-Finalists: Netherlands, *Surprise Team, Portugal, Brazil
Finals: Netherlands vs. Portugal
Winners: Netherlands
3rd Place: Surprise Team over a disinterested Brazilian squad.
*In the last 3 World Cups, there's been at least one surprise Semi-Finalist. They always seem to come from Eastern Europe as well. While I feel good about my Final Four, I wouldn't be surprised if a team like Ukraine, Croatia, or Serbia & Montenegro crashed the party.
There you have it. My semi-baseless take on the World Cup. I'll be sure to act like a smug prognosticator, whether I'm right or wrong. That's what we pundits do.