Oh, if only I had a little claymation
Mel Allen
to narrate this post, and some TWIS Notes. Mmmm...TWIS Notes.
I couldn't find a picture of ClayMel, so I figured I'd use one of my second favorite component of the World Cup.
As I write this, Argentina is laying waste to Serbia & Montenegro...at the same time!
Sorry, I had to. This is their last World Cup, and they are about to be mathematically eliminated.
The S&M Boys were considered to have one of the best defenses in Europe. Argentina being able to hang 3 on them in the first half (
edit: ouch, and 3 more in the 2nd
) seems to indicate that we'll see a bloated Maradona rooting on the
Albicelestes
deep into this tournament.
So, we've reached the end of the first week of the World Cup. Ecuador (of all teams) became the first to advance to the 2nd Round, with half of their team playing professionally for the global juggernaut that is LDU Quito. How 'bout that?!
Because when you think massive soccer clubs, you think Manchester United, Real Madrid, and...okay, not LDU Quito.
Speaking of LD, you quit-o...
Landon Donovan
and the US didn't really show up for their first game, in case you haven't heard. I self-imposed a moratorium on blogging about their 3-0 shallacking at the hands of the Czechs, because I didn't really feel the need to pile on a team that had just been kicked off the Hype Train. It also gave
other bloggers
to beat me to the "trod upon" punchline. Curses!
Certainly, I was disappointed. But, as I said in my Preview, I really do feel that this is the team before "The Team". I hope they can prove me wrong tomorrow by pulling off an upset of Italy.
As for the World Cup in general - three things have become apparent to me in this first week:
A) ESPN does not know how to broadcast soccer
- From weak broadcast crews, to overly busy graphics, they make it a painful experience. Soccer is a game where the whole field is important, yet they insist on a long black strip of a scoreboard up top, and the Bottom Line down low. This eliminates a good bit of the viewing area on the wings, where a fair amount of action occurs.
On top of that, they love throwing out these huge "fact boxes" that block off another 25% of the screen, usually while someone is dribbling towards goal. They also seem to enjoy treating all us viewers like we're morons-constantly explaining Yellow Cards and Red Cards...and using their beloved scoreboard to remind you that you're watching the FIFA World Cup, and it's, in fact, live.
I really wish Fox would pick up the rights to this thing.
B) Brazil = Beatable
-
After watching their less than inspired performance against a solid Croatian team, I just don't see it. I don't see the invincibility. Granted, they have 3 or 4 phenoms on the field, but they also have chinks in their armor. For one, they have 2 outside backs in the latter stages of their career in
Cafu
and
Roberto Carlos
. They also have
Dida
in goal, and their manager,
Carlos Alberto Parreira
seems willing to wait out
Ronaldo's
corpulency, which was in full display the other night. You couldn't miss him...he was the guy standing still, about 30 yards from the Croat Goal.
C)Eric's DVR Is Dragging Down World Cup Scores
: I've recorded 2 games that I avoided knowing anything about while at work. Croatia-Brazil and Poland-Germany. Both have ended 1-0. Following bad logic, I need to call in sick to work for the next 3 weeks, or this will be one boring World Cup.
And now, my first set of superlatives for Week 1 of La Copa Mundial:
Best Managerial Moves
:
Guus Hiddink
- 2 subs,
Tim Cahill
and
John Aloisi
, scored all 3 goals for the Aussies in their comeback over Japan. Of course, you could also say it was a bad move if you were wondering why both guys weren't starting in the first place. But, I digress.
Best Forward:
Paulo Wanchope
, Costa Rica - despite playing for a crap team, Wanchope notched two lovely goals against host Germany. While he is 30 (old for a striker), I have to think some team would be interested in luring him back to England. He can still put it in the net.
Best Midfielder:
Thomas, Don't Call Me Ro-sick-ee, Rosicky
, Czech Republic - It's pronounced, Ro-sitz-kee, ESPN announcers. Nothing I hate more than people not doing their research. It's not like the guys and unknown. I hate to give a nod to the man who helped dismantle my team, but what a game. The only thing I fault him for is giving Julie Foudy the chance to make the statement "Ro-sick-ee is sick-ee". Clever...clever...
Best Defender:
Lots of options, with all the clean sheets being posted on the scoreboard. I'm going to go with a defender who came through in the clutch, Tunisia's
Radhi Jaidi
(
Big #15 in the photo below
).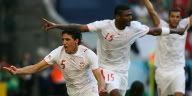 The hulking defender scored on a last gasp header to pull the Carthage Eagles (love those African team nicknames) level with Saudi Arabia in the dying moments of the most unexpectedly exciting match of the tourney. Granted, his backline did surrender 2 goals, but why quibble with details?
And a special award, I'll dub the
Bill Snyder Trophy
. No college football coach got more mileage out of transfers than Snyder at Kansas State. Apparently, Germany was inspired by this. After starting a pair of Polish born strikers in
Lukas Podolski
and
Miroslav Klose
, the Germans were pushed to victory over said Poles by Swiss born super-sub,
Oliver Neuville
slotting one home in the 90th minute. Let's not forget they also had Ghanaian born
Gerald Asamoah
on the bench. Geez...and Eurosnobs give the U.S. crap for
Freddy Adu
.
That's it for this week. Hopefully I won't be eulogizing the U.S. in my next edition. Thanks for reading Thisssweek...Innn Soccer.