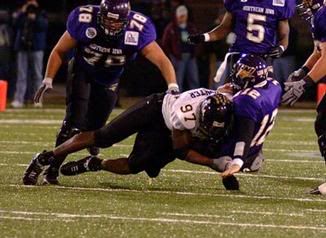 It's finally here. When I was a child, my favorite time of the year was obviously Summer. As an adult, though, Summer might as well just be called Spring, part 2. I still have to work, but then I have to take extra care that my non-existant pigment isn't exposed to those harmful UV rays.
To put it mildly, other than the reduced traffic on my way to work - Summer is your hot ex-girlfriend from high school, who looks even better now. Meanwhile, you look like...well...you, and you can't have her anymore.
That's why I welcome the early rustlings of Fall. For a child of the South, Autumn kicked off Thursday night, no pun intended, with the first games of the College Football season.
I'll have to say, last year will be hard to top for me. 2005 was the greatest football season of my life. I really only have 2 others that merit mentioning:
1990:
My first season of really paying attention to the college game.
Georgia Tech
, led by the nasally commands of
Bobby Ross
, goes 11-0-1 to win a share of the National Championship with Colorado. The only blemish on Tech's record was a 13-13 tie at the hands of
Mack Brown's North Carolina Tar Heels
. Incidentally, it was the last time one of his team's showed up for a game against a highly ranked opponent before last season.
1998:
My NFL entry. I've been a
Falcons
fan since I knew what football was. The only two players I knew when I was a toddler were
Terry Bradshaw
and
Steve Barsss-kowski
(Bartkowski in kidspeak). So, it stands to reason that the Falcons only trip to the Super Bowl is in here.
The 1998 NFC Championship Game
doesn't get the credit it deserves as being one of the best ever. The 14-2 Falcons upsetting the media darling 15-1 Vikings. I got to watch the game with my entire family, and I will never forget that feeling when I realized
Jamal Anderson
tore his ACL next year. Of course,
Eugene Robinson celebrated in a much different way than I would have
, and the Dirty Birds went meekly to
John Elway and his Broncos in Super Bowl XXXIII
.
Both these seasons occupy a space on my Hot-Button List. That's the list my friends know they can go to if they want to see Angry Eric. The reasons being - there is no way a 10-1-1
Colorado
team (including their infamous
5-Down victory over Missouri
, and another Ref-Aided win over
Notre Dame
in the Orange Bowl) deserved any part of the National Title. Because of the asinine system that did (and still does) exist in Division I-A, the two best teams in the country couldn't settle it on the field that year. In that same year, 12-year-old Eric becomes a proponent of College Football Playoffs. The Falcons season is there because folks like to claim they were a fluke. Not true...the truth is they didn't provide for the likelihood of Jamal Anderson getting injured.
Dan Reeves
made the same mistake a few years later with
Appalachian State wins the I-AA National Title
. That's right, I-AA. I would guess that this might be one of the few blogs that has ever covered both professional soccer and I-AA football in the same year
I'm sure you're loading up your tired small college jokes for the comments section, and that's fine. I'm guessing you probably root for a school that you didn't even graduate from, or an Alma Mater that provides you with some sporting metaphor of acceptance because you can sit in a stadium with 70k + on a Saturday and all pull for the same team.
Okay, maybe this goes on the Hot Button list, too. I look at it this way, I'm not going to ever detract from a 2A High School for winning its State Title because they aren't 5A. They were presented with a similar set of perameters, and provided competition with schools under those same qualifications, and proved to be the best. That's something to be proud of. Add to that, it's the school that provided me with my degree, and there you have it.
Back to my original point, it was a fun ride. Thers is no substitute for playoff football. Former I-A Head Coach
Bill Curry
said as much while covering the
Appalachian State-Furman Semi-Final last year
. The fact that the teams know that they are done if they lose exponentially increases the intensity of said match-up. You can argue that a 1 loss team in I-A might behave in similar fashion because, as the BS line goes "The whole season counts." The lack of immediacy, and the I-A Pacifier (i.e. a Bowl Game, of which there are 34) often seems to mitigate that effect.
I hate it, too...it's the biggest problem I have with College Football. Maybe it's the fact that I was weened on the NFL, or maybe it's just the fact that I am not functionally retarded, but Bowls generally suck. In this way, I guess I look at the College Game as that girl I love, but who I know will never change their foolish ways. Still, I keep coming back, hoping they will finally see the error of their ways.
Ah well, here's to another fun season.