I've said many times to friends that the closest thing in the U.S. to the tradition, and atmosphere of European soccer is College Football.
Inspired by my attendance at the SEC West slugfest between Auburn and LSU (the football equivalent of a 1-nil victory), I will effort to explain the various European leagues to you by offering up their corresponding College Football conference. I hope I can continue my efforts to bridge the gap between these two, seemingly disparate, cultures.
Coincidentally - last weekend, Manchester United and Arsenal slogged through a 1-0 decision in a rivalry that is very similar to the one I was witness to. Neither involves a common border. Rather, they were borne out of the fight for league supremacy, and neither fan base has a fondness for the other.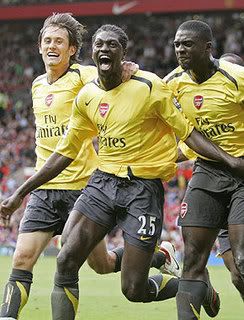 Now, regarding the subject of acquainting these distant cousins.
In European leagues there are several elite teams battling not only for their particular country's League crown, but for the Champions' League title. Meanwhile, smaller clubs would be ecstatic to somehow win the league once a quarter-century, or maybe get a berth in the UEFA Cup.
This, of course, is much the same way a team like LSU considers a season out of the BCS picture a failure, while Kentucky would tear down their goalposts after making the Liberty Bowl.
Much like I-A football having the Big 6 Conferences, European soccer has the Big 4 leagues. Obviously, the numbers don't match, so we'll get a little creative.
The Pac 10:
The German Bundesliga
- A league that currently houses only one truly top-notch team, Bayern Munich. Leaguewide, there are several serviceable sides that somehow manage to remain pretenders to the throne. Bayern attracts some of the best players from across the continent, while the other teams always seem to get smoked when facing non-German opposition. It's a league that has gradually lost the ability to turn out quality defenses (much like the death of The Desert Swarm), and, if not for Bayern, might be in danger of falling out of The Big 4.
Also, The Pac-10 houses most of its teams in California, and the Bundesliga covers a unified Germany. Thus, both collectives feature fans who think Communism might actually work if just given another chance.
The Big 12:
Italian Serie A
- Several very solid organizations at the top of the league, and some shockingly bad teams at the bottom. Serie A embodies the economic gap between affluent Northern Italy and relatively barren Southern Italy much like The Big 12 embodies the difference between the booming population of the Southwest and the static, primarily rural, population of the Great Plains. The league has worked for years to shed images of a largely defensive mentality paired with vanilla offenses.
Much like the formerly seperate Big 8 and SWC of the 1980's, Serie A has recently had to deal with two of it's more powerful clubs, AC Milan and Juventus, being caught in
a scandal
of the highest order. Juventus played the unfortunate role of SMU in this case, being relegated to the lower divisions of Italian soccer - likely for many years to come. AC Milan is hoping to return to prominence a little...uh..."sooner" than that.
This development has allowed one of the other glamour clubs, Inter Milan, to re-ascend to the top of the league after a relatively dormant period - unlike Texas, it wasn't because they foolishly hired John Mackovic as their Head Coach.
The ACC:
French Ligue 1
(Leeg Uh! if you are looking for the correct pronunciation) - Constantly clamoring that they should be included in the discussion of the top leagues, while being pretty much dominated by the same team every year. Before the arrival of Virginia Tech and Miami - Florida State controlled the ACC Title like Olympique Lyon currently controls Le Championnat.
When criticized about their qualifications for inclusion in European's Soccer Elect, will respond in a similar fashion to ACC fans by touting their superior culture and education over neighboring barbarians. Ultimately, these sour grapes are derived from their inability to convert similar resources into the results of their neighbors...
The SEC:
La Liga -
Spain's top division. Despite grumblings from some pastily complected folks that live north of there, widely considered the toughest league on the continent. Full of teams who have seen success domestically and continentally, as well as a slew of provincial and cross-regional rivalries. Through excessive government control, and shady backroom deals, Alaba...I mean...Real Madrid were able to dominate the league for many years.
With corruption and subversion now less prominent in the region - Real's primary rival - along with 2 or 3 other large clubs appear poised to do battle for supremacy in the coming years. Despite this, Real's fans will still try and convince you that they are the flagship club of La Liga.
Also, as in the SEC, you do not want to commit the egregious era of mistaking one Spanish dialect for another. The consequences could be dire!
Of course, there is another league that often clamors of the title Best of the Best, even though it's teams have a reputation for coming up just short during European competitions...
The Big 10:
English Premier League
- The oldest of the big European leagues, and despite having teams set in some sparsely populated areas, constantly one of the best attended. A league that, until recently, was dominated by the team with the largest stadium in the country. That is, until a mad genius arrived from a second tier league, and took over a club in one of the largest population centers. Using seemingly en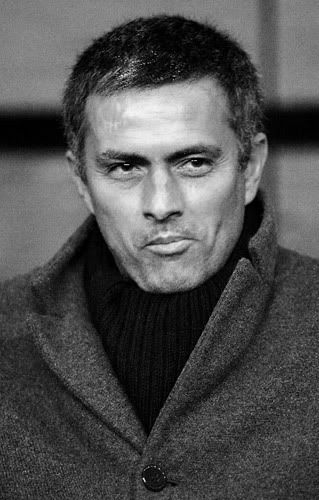 dless resources, he finally backed up that teams claim that it is a force to be reckoned with on the continent. Interestingly enough, Ohio State's Jim Tressel and Chelsea's Jose Mourinho even bear a passing resemblance.
Their footprints are both identified as places where ideal versions of the English Language are spoken. Yet, England and Big 10 Country (By virtue of running from Pennsylvania to the Dakotas) have mangled their native tongue into numerous semi-indecipherale vernaculars.
Our next subject is a rogueish monolith that is always trying to butt in on the party. Charting its own course - even though it occupies an overlapping swath of land to the EPL...
Notre Dame:
The Old Firm -
Scotland's flagship clubs
,
Celtic and Rangers
. They are pretty much an anachronism in the modern soccer scene, despite what their supporters (and a handful of media members) claim. Always purporting to be part of Europe's Ruling Class, until they fall meekly to a team from one of the power leagues. Haven't won anything significant in a really long time.
Inextricably linked with a particular Christian Sect, despite the fact that most of their players likely don't subscribe to those beliefs. If not for years of tradition and rabid fans, their status on the periphery of the main leagues would probably have put them in the same position as...
Army/Navy
:
The Scottish Premier League
- Really just scheduling fodder for The Old Firm. Every once and a while they'll make someone sweat, but never really seem capable of a big breakthrough season. Their best days ended a long time ago, and a UEFA Cup berth is usually a sufficient outcome for their respective fanbases.
Still, they aren't that far behind a league that claims to be part of the elite, but is usually met with raised eyebrows and chuckles...
The Big East:
The Dutch Eredivisie - Home to 3 decent teams - Feyenoord, PSV Eindhoven, and Ajax. As in The Big East, most fans outside its borders couldn't name the rest of the league if you put a gun to their head. Nonetheless, very few around Europe would want to face those Top 3 in a winner-take-all scenario.
It all makes sense, now, doesn't it?